How do you clean and sanitize LUXIE Beauty Brushes?

Creams, powders, liquids, it is so easy to get a mixture of different products on your LUXIE brushes. At some point your brushes will have a build-up of product and can get a bit dirty. There are so many different products out on the market from brush cleansers to mini washing machines to clean and freshen your bushes. But LUXIE has a few easy cleaning tips for you. Here are our steps and tips on how to clean and sanitize your brushes!
LUXIE brushes are vegan, cruelty-free, and synthetic, so it is easy and simple to get all the makeup and dirt out of your brushes with a gentle dish soap.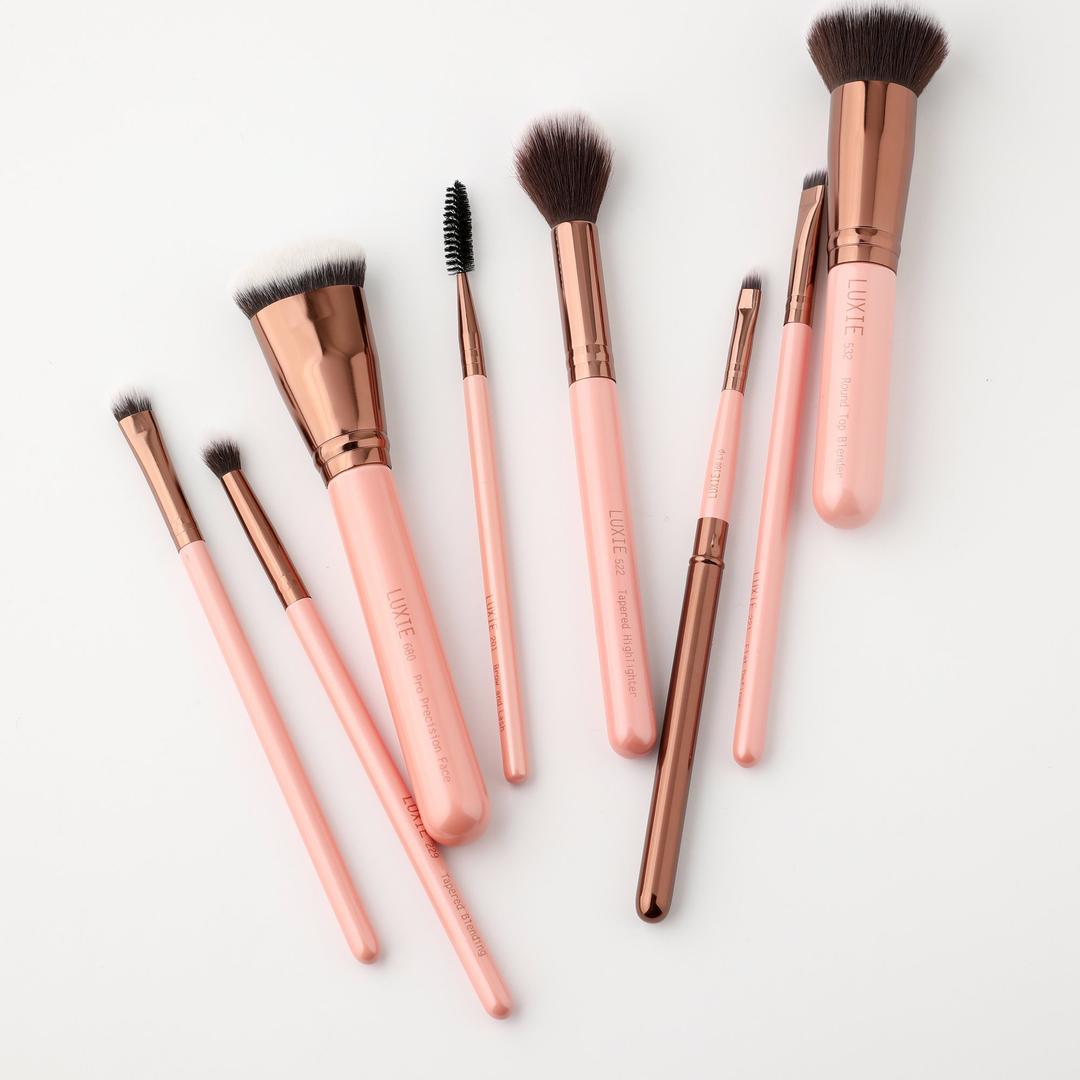 Step 1. Take a bowl, fill it up with some warm water.

Step 2. Add a few pumps of dish soap and start swirling your brushes around.

Step 3. Apply slight pressure to really get up in there, but only the bristles.
(Do not submerge your brushes past the metal part to avoid getting water trapped in the brush)

Step 4. Grab a clean towel and gently tap off the excess water, then let your brushes lay flat for a couple of hours or overnight on a bare countertop or service, and viola!

You have perfectly clean brushes with help from items you already have lying around your house!
How often should I clean my LUXIE Beauty Brushes? 
You should clean your brushes depending on how often you use them and the types of products you use.  Creams and liquids tend to leave more residue on brushes than a powder would. Dermatologists recommend cleaning them once a week, and pro makeup artists suggest cleaning after each use.  Determine your cleaning schedule based on how and how often you use your brushes! There is no right or wrong!  
Other cleansing options 
Makeup Brush Cleansers

- If you are looking for something a little more than gentle soaps, there are many different kinds of brush cleansers out on the market!  They are made with fragrant oils and some alcohol to deep clean and kill any bacteria, germs, and residue. You can find these cleansers at your local drugstore or any beauty-related store!

Cleansing Mats

- Another way to cleaning your brushes can come in the form of a rubber mat. These mats have different textures and patterns on them to get deep into your bristles and clean them out. You can apply water or soap onto these mats, gently swirl your brushes onto the mat and watch your makeup residue coming running down to get them nice and squeaky clean. 

Beauty sponge washing machine

- A really fun and cool tool that has become a trend is the mini washing machine for your beauty sponges.  Simply add water soap to the tiny machine, drop in your sponge, then watch as the battery-powered machine gets all the germs out from your sponges! It is so adorable and keeps your tools clean! 
It is so important to keep all of your makeup brushes and tools clean so that your skin will not have to worry about foreign bacteria or germs ruining your barrier. Cleaning them every couple of weeks or months can help you keep a clearer complexion. Best of luck keeping your brushes squeaky clean!